Public notice: Consultation launched into reorganising four schools in Bury St Edmunds
Unity Schools Partnership has launched a consultation into reorganising four schools in Bury St Edmunds and creating a primary school and secondary school with admission arrangements in the same way as the other schools in the town.
Under the plans, provision at Tollgate Primary School and County Upper School would be extended and Horringer Court Middle School and Westley Middle School would close in August 2023.
A public consultation into the plans has now been launched, with public meetings planned alongside meetings with staff and parents.
Tim Coulson, chief executive of Unity Schools Partnership, said: "We have been proud to work with these middle schools since they joined the trust last year.
"We understand and acknowledge that the middle school structure and three-tier system has been enjoyed and has benefitted students for a number of years.
"But the number of families choosing middle schools is diminishing – which has a knock-on effect on the type of education we can offer to students in the future.
"We believe it is the right time to convert these group of schools into a primary and secondary model and harmonise admissions at age 11 across the town and across Suffolk.
"We want to encourage our local community to share their views over the plans, whether through the various public meetings that are planned or via our consultation website."
The consultation will run until Thursday 17th February when the Department for Education will consider the proposals along with the views expressed.
Public meetings, where attendance must be booked in advance, will also be held on Thursday 27th January at Westley Middle School, Monday 31st January at Horringer Court Middle School and Wednesday 2nd February at County Upper School.
To book a place at the public meeting, find out more about the plans or take part in the consultation, please visit http://consultationbse.unitysp.co.uk.
---
Public notice
STATUTORY CONSULTATION WITH PROPOSAL TO MAKE ADJUSTMENTS TO ADMISSION AGE RANGES AT FOUR SCHOOLS IN BURY ST EDMUNDS ALONG WITH A CLOSURE PROPOSAL FOR TWO OF THE SCHOOLS.
Unity Schools Partnership has published a Statutory Consultation with Proposal to adjust ages ranges for:
Tollgate Primary School

County Upper School

Westley Middle School

Horringer Court Middle School
Along with a proposal to subsequently close:
Horringer Court Middle School
The Full Proposal document can be viewed and downloaded at http://consultationbse.unitysp.co.uk.
If a paper copy of the proposals or consultation survey is required, this can be requested from reception at any of the four schools.

Any person may object to, express support for, or make comments on the proposal by submitting views on the consultation website above.
The consultation begins on 5th January 2022 and ends on the 17th February 2022.
Tim Coulson
CEO Unity Schools Partnership
Our belief is that our schools – and indeed every school – should be at the heart of their local community.
Schools should help shape young people, and young minds, so they can move forward and make a difference on their doorstep and beyond.
A successful local community needs a lot of things. But one of those is a successful school.
But how can schools and communities work together for the good of all?
At Unity Schools Partnership, the clue is in the name. Yes, we want our member schools, staff and students to build partnerships with each other and those outside of the trust.
But we must also look away from our schools and foster real partnerships with the community. Fortunately, partnerships are all around.
Just a few short weeks ago, many of our towns and villages came together to celebrate the final stage of The Women's Tour cycle race.
It was a great sporting event but also a great community event which included schools producing fantastic artistic banners in support of competing teams.
This was a great thing for out students to be part of but just one example of how we can make a difference to our local communities and the fantastic events that take place.
In Haverhill, students from Castle Manor have also been showcasing their artistic talents by helping to design artwork which is now dotted around the town centre.
At a time when supporting our town centre economies has never been more important, students can feel proud to have done their bit to improve their local environment.
Given the events of the last 18 months, many of our schools have moved outside and launched gardens bringing numerous benefits. Once again, this hasn't been done in isolation and we are indebted to the garden centres, the volunteers and other individuals and businesses who are supporting these important projects.
At Felixstowe School, there is a prime example of partnership-working at its best – something that has led to the formation of an in-school chaplaincy.
The position of school chaplain has been funded by a local charity, but is based in the school, to provide support for students when they need it most.
This support is arguably never more crucial given the events of the last 18 months and we were delighted to see this partnership filmed last week for airing at this month's General Synod.
I have only highlighted a few examples above and I know there are many, many more. Much of this work is unsung or goes under the radar, but it all makes a massive day-to-day difference to schools, their local communities and the way we can all work together. We thank you all.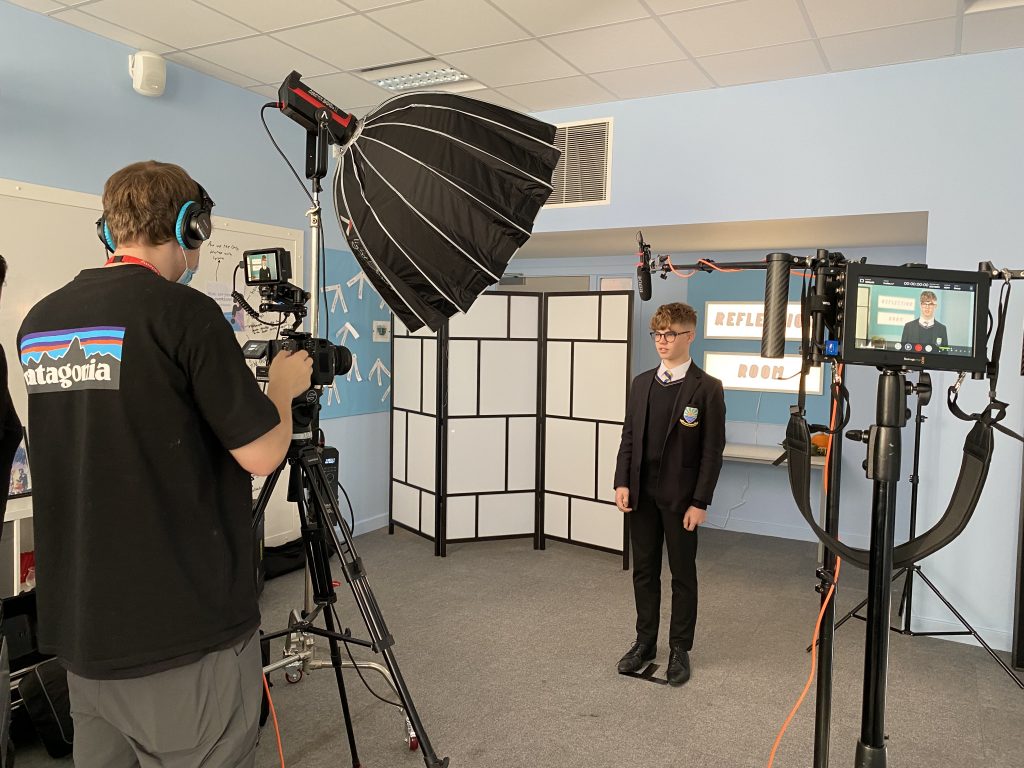 ---
By Tim Coulson, Chief Executive of Unity Schools Partnership
The newly-appointed headteacher of a special school set to open in Bury St Edmunds has spoken of his excitement at the new role.
Fyfe Johnston will be the first ever headteacher of the Sir Peter Hall School in Airfield Road, on the town's Moreton Hall estate, when it opens in September 2022.
The school will build up to having a total of 80 students with social, emotional and mental health needs, aged between nine and 16 years old.
Mr Johnston, who has worked in the education sector for 20 years and special education since 2006, said he was looking forward to the school making an impact in the local area.
Fyfe Johnston (left), new headteacher of Sir Peter Hall School, said:
"This is an amazing opportunity and I am delighted to be leading the Sir Peter Hall School. My passion for special education comes from understanding that there is a strong need for the best quality education possible for young people with SEND.
"Our education will be bespoke to each student and we will work closely with partners and families to provide our young people with the very best caring and therapeutic educational pathway.
Mr Johnston's career in education includes past leadership roles at Beacon Hill Special School in Ipswich and Riverwalk Special School in Bury. He was also headteacher at The Care School in Norwich which achieved two 'Outstanding' inspections from Ofsted.
Mr Johnston added: "One of my first roles will be to ensure we have the right team in place to best support our young people. We want to provide a vibrant and inspiring atmosphere while working closely with the community to provide a school that everyone can be proud of."
The new school, designed by Concertus Design and Property Consultants, will be named after celebrated theatre, opera and film director Sir Peter Hall.
Public consultation and open event
A Section 10 consultation will be launched on Monday 27th September offering the public a chance to share their views about the new school while a public consultation event will be held at Abbots Green Academy on Wednesday 6th October between 6pm and 7.30pm.
Find out more by visiting the school website consultation page via https://www.sphschool.org/2021/09/27/section-10-consultation/.
September is always a month of high hopes and expectations in the school calendar.
Heralding the start of a new year, we welcome new and old pupils, new staff members and new leaders.
It is always a feel-good time of year, as we go again with the next group of children, as children move up a year and take on the next opportunities and as we recommit ourselves to helping each of them achieve and experience the very best that we can imagine.
It is impossible to do that without pausing and reflecting a little on the last 18 months while hoping for a more consistent year ahead.
We know there will be positive Covid-19 cases and our schools are all prepared for a Plan B, and maybe C or D, should cases rise – either in their particular school or across the area or country.
And while the first few days for our secondary schools saw a return to Covid testing inside their buildings, we are now just delighted to be focusing on education in the classroom.
We welcome more than 2,000 children and young people and around 200 staff who started in our schools at the beginning of the new term and we wish our new school leaders all the best for their new roles.
As well as positivity for the months ahead, we have also started the new school year with lots of good news with a further acreditation for our tutoring programme, SP Tutors, and another 96 placements added to our KickStart programme.
Becky Poynter has been named a finalist in the National Governors' Association awards for outstanding governance professional, as has our trust board for outstanding academy trust governance
This is a big year in many ways. There are big ambitions in many schools and we expect to have a major push on training for school 'senior mental health leads'.
I think everyone, of every age, has suffered to some degree over the last 18 months. Whether it is the fears of the first lockdown unknown, health concerns, missing social interaction or struggling to study at home, this has been a particular tough time for our young people.
This week, we were pleased to welcome the television cameras to Castle Manor Academy in Haverhill where two students spoke eloquently, and candidly, on the issue of wellbeing as part of Youth Mental Health Day. Mental health must be pushed higher up the agenda and form a big part of our trust commitment and all our school's curriculum.
I would like to wish all senior leaders, trust central team and board, staff, school governors and our students a very enjoyable school year ahead.
---
By Tim Coulson, Chief Executive, Unity Schools Partnership
A-level and GCSE results days are always special events in the educational calendar.
The culmination of years of hard work, in and out of the classroom, from students, ably supported by staff and their families, and heralding the start of the next stage on their educational journey.
There is no getting away from the fact that this year, like 12 months before, was different.
No traditional exams were sat as school staff instead worked arguably even harder to support a new system of teacher assessed grades.
But A-level results day remained a special time for students and staff alike.
The nervousness around getting the right grades for a coveted university place remained, as did the tears of joy across all our sixth form centres.
It was also a chance for students to catch up with friends and also say one last goodbye to schools and staff that have served them so well over the years.
For others, who maybe didn't quite get the results they were hoping for, it was a chance to talk to staff about their options going forward. They would have been told that this is only a bump in the road and that there are many opportunities ahead for them.
National headlines around the awarding of grades have taken some of the attention away from what the students have achieved in this most unprecedented of times.
Numerous lockdowns, learning from home, understanding the intricacies of virtual classrooms, socially distancing in schools – to name just a few of the challenges they had no way of knowing when they embarked on their A-levels.
I know of many students who found much of the last 18 months demoralising and demotivating – both fair emotions given the circumstances. It is why it was so important to get students, of all ages, back in the classroom as soon as possible. Their hard work, commitment and resilience truly deserves the success I hope they have had.
These qualities have also been shown by school staff in abundance. Over the last few months, they have not only done all they could to squeeze in completing the syllabus without the usual time in school, but also had to do the work of examination boards in assessing each student's progress.
This has involved using more tests and assessments than in previous years and carrying out the marking usually done by exam board markers. We look forward to possible reforms that learn from the experiences of the last two summers.
I hope this amazing dedication, by both students and staff, will once again be shown when the GCSE results are published (this column is written a day before that date).
I would like to congratulate all students, thank all our staff, and wish everyone a relaxing and enjoyable rest of the summer holidays.
---
By Tim Coulson, Chief Executive, Unity Schools Partnership
It has been another momentous week for us all.
On Monday, Boris Johnson announced that all remaining Covid restrictions were set to end on Monday 19th July.
A day later, Health Secretary Sajid Javid and then Education Secretary Gavin Williamson announced that school bubbles would also be ending.
At one stage, the bubbles worked very well in our education system. They enabled year groups to return to classrooms by working independently away from other age groups.
While not ideal of course, this allowed schools to carry out their own contact tracing when there was a positive case with pupils then isolating to ensure the infection did not spread.
But now, at the same time as we keep reading headlines about a return to some kind of normal, it hasn't always felt like that in schools.
Statistics last week estimated that almost 400,000 pupils were currently isolating with only a fraction of that number testing positive for Covid.
This clearly creates massive upheaval for leaders, teachers and families as well as the educational and mental health impact on those students missing yet more school.
This could not carry on and we are pleased that the Government has addressed this situation with the plans announced this week.
Of course, some normality has returned to our schools. Many have carried out some form of sports day, even without proud parents on the sideline, and one or two have even announced plans to reschedule Year 11 prom events.
Enrichment activities have taken place and many schools have got into football fever – with our St Edward's Academy in Romford even visited by the Sky Sports News cameras (below) to discuss England alongside the importance of role models.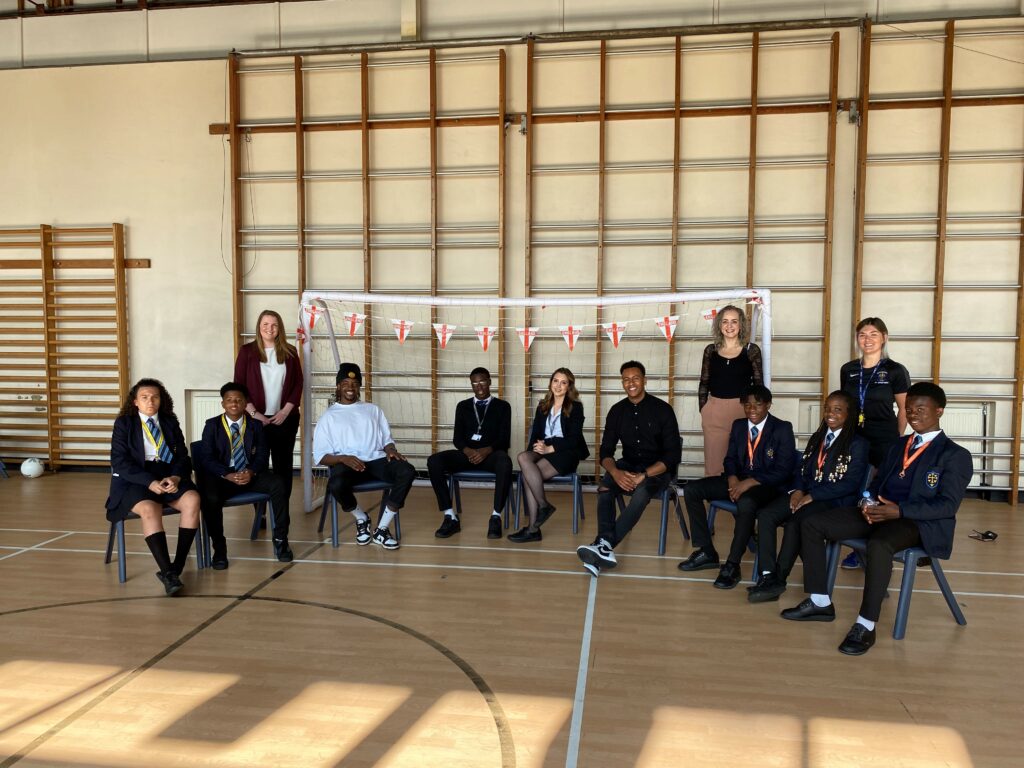 These are all things that can only happen in a school, in a classroom. Home schooling has been comprehensive and we have all learned a lot in the last year. Some things won't change – parents' evenings, for example, may remain virtual for many.
But this drastic system of tracing and isolation had to be addressed. We can't have a school scenario where you can count the number of positive cases on one hand, but the number of students isolating going into the hundreds.
One hopes that the plans announced this week will go a long way to improving the situation ahead of a new school year in September.
Certainly the last 12 months will be one we will never forget. I make no apology for once again paying tribute to the incredible hard work, resilience and determination of everyone connected with the education system as well as the support of all trust staff, students families and school communities.
I hope you all have the peaceful, relaxing and enjoyable summer holidays that you truly deserve.
---
By Tim Coulson, Chief Executive, Unity Schools Partnership
A new school in Bury St Edmunds is to be named after celebrated theatre, opera and film director Sir Peter Hall.
The Sir Peter Hall School in Bury St Edmunds was chosen following an informal consultation organised by Unity Schools Partnership who will run the school in Airfield Road.
The new special free school, designed by Concertus Design and Property Consultants, will open in September 2022 and build up to having a total of 80 students with social, emotional and mental health needs, aged between nine and 16 years old.
Sir Peter, who was born in Bury, founded the Royal Shakespeare Company and was described as "the most important figure in British theatre for half a century" following his death in 2017.
Tim Coulson, chief executive of Unity Schools Partnership, said he was delighted with the new name, which has been supported by both Sir Peter's family and the Theatre Royal.
Mr Coulson said: "All our schools play an integral role in their respective communities and this new school will be no different.
"We would like to thank everyone who took part in the informal consultation and also a very big thank you to the family of Sir Peter Hall for their support.
"We are also indebted to the Theatre Royal for supporting us with the consultation and the new name. We look forward to working with them closely once the new school opens."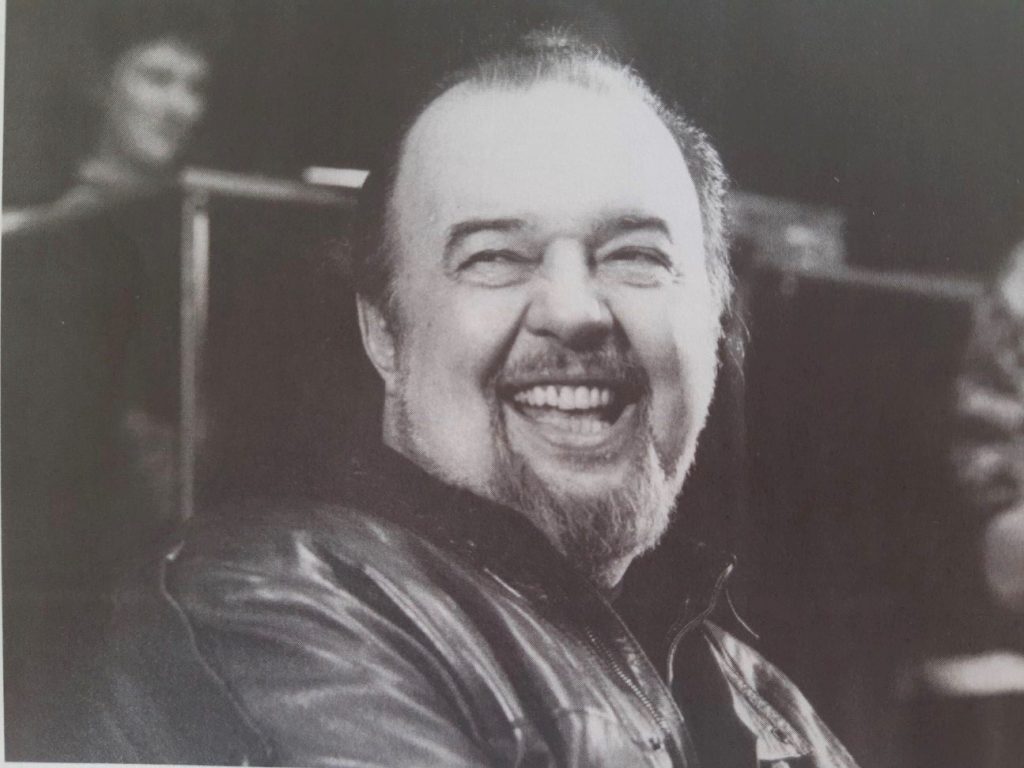 Edward Hall, son of Sir Peter, said the family were "touched and honoured" to be having a new school named after him.
Mr Hall said: "Bury St Edmunds played a very special part in my father's upbringing and life.
"He was inspired by the Theatre Royal and believed passionately that unilateral access to education was the cornerstone of a healthy society. I am sure this school will serve to inspire future students in the years to come."
Owen Calvert Lyons, director at the Theatre Royal said: "Sir Peter will forever be connected to Bury St Edmunds through the extraordinary work he did in restoring the Theatre Royal.
"We're delighted that his legacy will now form a lasting bond between the Theatre Royal and the Sir Peter Hall School, enabling us to continue our work in transforming the lives of children growing up in our town."
The Sir Peter Hall School has now begun the process of recruiting for their first ever headteacher.
Alister Broadberry, area director for Morgan Sindall Construction's Eastern Counties, which is the preferred main contractor for the Sir Peter Hall School, said: "We're delighted to be involved in this project, which is going to make a real impact in the Bury St Edmunds community by providing much needed SEMH facilities.
"Special free schools such as the Sir Peter Hall School play a vital role and we're excited to bring our expertise and knowledge of the sector to the table and help create a high quality educational facility that's tailored to the needs of the students."
To say it has been a turbulent year in the education system is something of an understatement.
We enter the final half term of a school year like no other with excitement, but also much still to ponder for the Government and school leaders alike.
At the top of the list is the Government's Education Recovery Programme. Of course, we have all read the headlines – both positive and otherwise – and we continue to wait to see exactly what support each school will get.
But I also wanted to share some of the priorities within our own trust of secondary, special and primary schools.
Our senior leaders have worked together to plan ensuring children make up for the time we have had out of schools. Our plans include ensuring teaching is the best it can be, every day, every lesson, as well as greater enrichment opportunities, academic interventions such as additional tutoring and starting to devise what schools would do were the Government to fund longer school days.
Of course, no decision has yet been made about whether to extend the school day. Some will feel this is the right thing to do and others will feel it is unnecessary. But we think it is right that we explore all options, and look at all the evidence, before making these big decisions.
At the heart of own action plan is 'reading, reading, reading'. I am sure we all agree that this should be fundamental in any education plan, recovery or otherwise.
But the recovery plan is just one big item on the agenda. Almost as soon as the decision to remove face masks in the classroom was taken, the focus has quickly moved to whether we should vaccinate secondary school students.
This too is always going to be quite contentious and we understand any parents' concerns as we all wait to hear the official recommendations from the Government. Students have already been amazing in taking the twice-weekly Covid tests, something that has made a big difference with how our schools have been able to run in the last few months.
Against this backdrop of uncertainly, we are proud of how our school staff have adapted, coped and responded admirably.
And amid all the anxiety and uncertainty, we are proud that we have successfully opened five new 'SEND hubs' within our schools with a sixth on the way this summer, providing specialist support for children that need it.
The need for such facilities was glaring and I know what a difference they are already making at Castle Manor Academy, Clements Primary Academy and Burton End Primary Academy, all in Haverhill, and Newmarket Academy and Houldsworth Valley Primary Academy, also in Newmarket.
The hubs are based on the school sites which allows for them to have both their own independence and to offer opportunities to integrate with mainstream education.
Finding different solutions, bespoke to each school, is going to be key going forward.
The Government is again talking about advantages to joining an academy trust.
It provides an ideal opportunity to share ideas and challenge in equal measure with the common aim to offer students the best possible education.
At Unity Schools Partnership, we also feel that it is vital that our member schools retain identity and independence as each are valued members of their own community.
Individual schools know their staff, their students and their families best and we champion them to make the right decisions – for their school communities – at all times.
This week, Prime Minister Boris Johnson paved the way for the end of wearing face coverings in classrooms from Monday 17th March.
Masks have been seen as a successful way of reducing infection risk in the classroom while, at the same time, being somewhat of a communication barrier between teacher and student.
As the country prepares for the next welcome stage of the roadmap, so too are restrictions easing within our schools.
Does this make the decision right? That is a contentious issue with no one answer.
What might be right for one school doesn't necessarily mean it's right for all. How do students feel in each school and staff members? Does it improve lessons or raise anxiety?
Many schools would have preferred face coverings to remain for a few more weeks before further evaluation could take place during the half term break.
This view has been backed up by trade unions and education associations and is one that we take very seriously.
So whereas some of our schools might lose the face coverings in classrooms from next Monday, others may not. This has to be an individual school's decision – while, of course, everyone continues to adhere to the guidelines around wearing masks in other public areas in schools.
Alongside face coverings, exams remain a big topic and I applaud all the work that has been done, in and out of the trust, to help ensure students get the grades their hard work deserves.
Last week, one of our schools was filmed by local television with students and staff interviewed about the changes to this year's exams.
It was heartening to hear students feeling relatively calm about the situation and how they felt this year's results might even be worth more in the eyes of further education and employers, considering what the last 12 months have been like.
The interviewer also asked about the long-term future of exams and whether they still had a place.
Exams do have merit but the debate about whether they should now be part of a larger portfolio of assessment is one that is certainly worth having.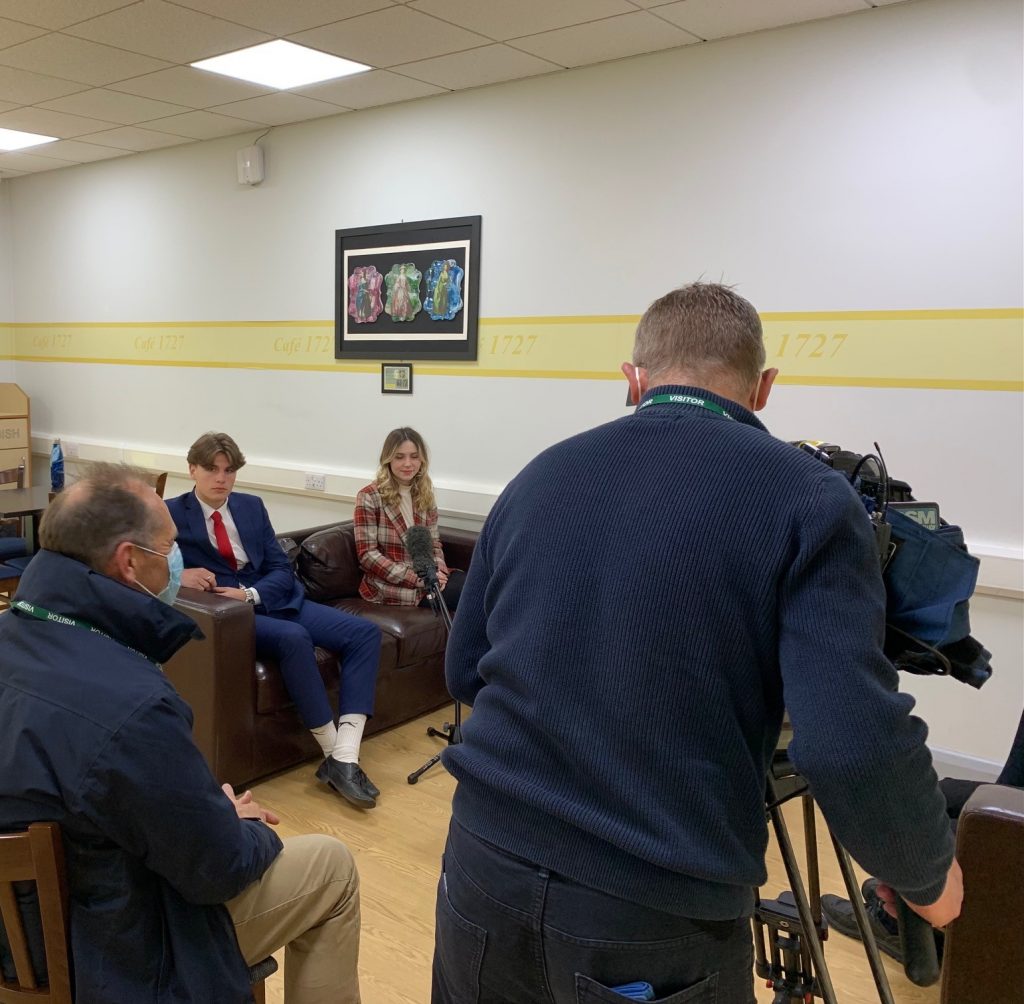 Schools traditionally celebrate the beginning of a new year on two occasions.
In January, as everyone does, and in September as each new academic year starts.
But there is a sense that we are also starting anew next week when we begin the summer term.
As has been well reported, the spring term started rather chaotically with a new lockdown announced after the first day of term – sending most children into a new remote learning programme.
How we rejoiced on Monday 8th March to see schools fully reopening and to have three weeks of full-time school.
We now start a fortunately long summer term with the hope of no Covid disruptions but also unusually without the annual examination season.
Behind the scenes, staff will be working very hard to assess the grades that young people should be awarded. It also means more weeks of uninterrupted lessons than we have seen for a long time
None of us will forget the last year – the additional enforced family time with its benefits alongside all the restrictions, the illness and grief for so many, and the loss of attending so many big life moments.
In schools, we have also learnt so much. Parents have seen much more closely the daily work of their children and new skills have emerged and developed.
Not just among children but school staff have developed new skills, some of which will remain useful even in normal times. For instance, we can hold events for so many more remotely than we ever could in person.
The news is full of the education recovery that will be needed in the coming years.
While some children have kept up with where they should be, the gap between those who are behind the general standard of their peers has grown.
Reducing this gap has been a major focus for schools for many years but, in one pandemic-ridden year, so much of this work has been reversed.
We look forward to the Government's plans for addressing this gap and we welcome all such funded programmes.
As well as academic progress, we look forward to children again having sustained time with their friends over the summer term.
The next few weeks and months will allow school to provide the opportunities that are less easy in remote learning, especially during the winter, such as intense physical activity and learning outdoors.
I hope all our school communities have had an enjoyable and restful Easter break.
We can't wait for the new term to start and enjoy having school every day, every week.