Christmas hampers and toys donated to support festive appeal
Kind-hearted members of our school community have showcased their festive spirit by donating goods for Christmas hampers to support local families.
Following on from the success of the 'Happy Top Up Sheds', Unity Schools Partnership has launched a school-wide appeal asking for donations for the Secret Santa hampers in the run-up to the Christmas holidays.
The hampers will then be delivered to families who have been nominated by local schools.
Lucie Calow, Director of SEND at Unity who has headed the project, said she has been delighted with the response so far.
She explained: "We wanted to do something that not only showed our schools' festive spirit, but also their community spirit.
"We know families across the country are tackling the cost of living crisis.
"It is still not too late to hand in donations for our Christmas hampers. We ask anyone who has tinned goods, toiletries and even Christmas crackers to give them to their local Unity school before Wednesday 13th December."
The Happy Top Up Sheds were launched in schools this year, offering families different forms of support including financial as well as donations of uniform and shopping items.
Lucie said: "We are hugely grateful to have been supported by a number of organisations including the Suffolk Community Foundation, Lady Fatemah Trust and the Port Community Fund in Felixstowe. As a trust, we have raised £18,000 from central funds to support school initiatives across our 32 schools.
"This money is used to support the top up sheds and offer local families vouchers at the discretion of their headteacher. We have also signposted to other partners where help needed was more substantial and long-lasting."
Alongside the Christmas hampers project, our schools have also been encouraging any unwanted toys to be donated to local charity shops.
Vanessa Whitcombe, headteacher at Castle Manor Academy in Haverhill, said: "Across schools in Haverhill we work closely with Reach and Matilda Rose to support their community campaigns and our families receive excellent support from these organisations. It is really lovely to be able to also produce hampers and offer them to families to bring some extra support at Christmas."
If anyone would like to donate items for the Christmas hampers or toys for their local charity shop, they can deliver them to their local Unity school by Wednesday 13th December.
A clear vision and broad curriculum has helped a Suffolk secondary school achieve a 'Good' Ofsted rating.
Sybil Andrews Academy in Bury St Edmunds has been praised for making considerable improvements as well as acknowledging "the actions it needs to take to become even better."
The Ofsted inspection comes four years after the education watchdog rated the school as 'Requires Improvement'.
In a statement, executive headteacher Kevin Blakey and head of school Joe Pointon said: "As a school, we are delighted with the outcome of the inspection where the overall effectiveness of Sybil Andrews was seen to be Good.
"In all four areas, the school was judged to be Good. But in particular, I am delighted that the quality of education was deemed to be good.
"The report states that 'the school has improved significantly since the last inspection'. Our aim is to continue that trajectory as we move forward over the coming months and years."
Following last month's inspection, the report praised the school for its work in and out of the classroom.
Inspectors said: "Pupils enjoy studying a broad curriculum. They know it prepares them well for future study, training or work. Pupils learn well in carefully planned lessons taught by knowledgeable teachers. Pupils achieve well in a wide range of subjects.
"Pupils' behaviour has improved. They respect staff and each other. Pupils know what is expected of them and follow clear routines.
"The school has a comprehensive programme to support pupils' personal development. They learn about topics such as looking after their mental health, managing anxiety, positive relationships and keeping safe online."
In addition, the report said leaders from both the school and Unity Schools Partnership, of which Sybil Andrews is a member, had a clear vision for ensuring that the school continues to improve.
The report added: "Pupils have opportunities to broaden their horizons to give them a better chance in life.
"Pupils are encouraged to take part in clubs and activities in school, such as the gardening and sustainability club, sports clubs and chess.
"The school helps pupils develop their own character and be well informed about issues that will affect their lives.
"There are opportunities for pupils to take on leadership responsibilities, such as becoming a 'Careers Ambassador' and pupils receive guidance about their future careers in every year group."
---
Around 400 local students have showcased their "astounding" literacy knowledge at a Book Mastermind.
Organised by Unity Schools Partnership, secondary schools from across the Trust joined together to take part in the competition.
Perry Lunn, from Thomas Gainsborough School, was crowned overall winner after dropping just two points out of 30 across two rounds of questions on The Hunger Games and general knowledge.
Perry took part in the grand final alongside 11 other students from TGS, County High School, Breckland School and Newmarket Academy.
He narrowly beat second place, Rosa Williams from County High, and fellow TGS student, Emily Head, who took third.
Organiser Mandy Harvey said: "The level of book knowledge was astounding. Huge congratulations to everyone who took part."
Unity Schools Partnership Secondary Lead for English and Reading, Ben Godsal, who awarded the trophy to the winner, added: "I was blown away by the ability of these brilliant young people to answer questions under pressure.
"What a fantastic advert these students are. I am already looking forward to next year's competition."
A Felixstowe primary school is celebrating after three key areas of their education was labelled as 'Outstanding' in an Ofsted report.
Personal development, early years provision and leadership and management at Langer Primary Academy all achieved the top grade following the inspection.
The school, in Langer Road, also received high praise for the quality of education and behaviour and attitudes and received an overall 'Good' grading – two years after it was deemed 'Inadequate' by the watchdog.
Toni Kittle, headteacher at the school, said the "significant and sustained" improvements were the result of a huge team effort.
She explained: "We are very proud of the report and the fact academic outcomes at Langer have continued to rise and are now comfortably above the national picture in many areas.
"Every child at our school is included, supported and encouraged to do their very best. Our team work tirelessly and have a belief in what is possible for every child.
"I feel privileged to work within such a supportive community – including staff, parents, volunteers, governors and Unity Schools Partnership.
"I am delighted that our parents and their children can feel proud about attending Langer Primary Academy."
An ambitious curriculum, matched by the high priority given to reading, were complemented following the two-day inspection at the end of September.
"Pupils are proud of their school, and they achieve well," the report said. "They know that adults want the very best for them, and they feel safe knowing there is always someone keeping an eye out for them.
"Help is at hand whenever they need it, whether with their learning or in the playground. Care and kindness shine through."
Early years provision at Langer came in for particular praise with inspectors noting: "The youngest children in the early years receive a high-quality education. They are well supported and guided in their first year in school.
"Children quickly learn to respect their classroom, playground and one another. Their time in the early years helps them to lay down firm foundations on which to build as they move through the school."
Inspectors also highlighted how pupils celebrated diversity, which increased their understanding of both their community and the world around them, and that they benefited from "high-quality opportunities" to broaden their experiences.
They concluded: "The school provides effective support for teachers and keeps a close eye on their workload. Staff are united in their approach to provide the best education they can for pupils."
---
Click here to view the Langer Primary Academy Ofsted report.
A Bury St Edmunds primary school is celebrating after maintaining its 'Good' Ofsted rating.
An ambitious and wide-ranging curriculum, confident pupils and support for staff all came in for praise following the inspection at Tollgate Primary School last month.
Hannah Brookman, school headteacher, said she was delighted with how the report recognised day-to-day life at Tollgate.
She explained: "We were particularly proud of how the report reflected our work around personal development and how we support children and families.
"Ofsted saw our vision embedded throughout the school and also the opportunities we provide both in the classroom and across the wider curriculum.
"We would like to thank all our staff for their continued hard work and also pupils, their families and the wider school community for their support."
In the report, inspectors noted how happy and safe pupils felt at the Tollgate Lane school, explaining: "Pupils learn well because adults have high expectations of them. Pupils are happy, well cared for and learn well.
"From the early years, they start to build firm foundations to set them up for their time in school."
The school's curriculum also came in for praise with inspectors saying it "equips pupils with the important knowledge and skills they need to be able to learn well".
Other areas of praise included pupils who were confident with both reading and communicating and the school's SEND provision.
The report noted: "Adults skilfully support pupils with special educational needs and/or disabilities (SEND). The needs of these pupils are accurately identified by adults.
"Teachers make careful adaptions to activities which help pupils with SEND succeed in their
learning. The school know the pupils and families extremely well."
Music and extra-curricular activities were also highlighted in the report, which said: "Whether singing in the choir or practising their brass instruments, pupils fill the corridors with music.
"Those who perform their musical talents at the cathedral in Bury St Edmunds are proud to do so. Pupils grow their own vegetables and fruit for eating in school dinners.
"Opportunities such as these help pupils make a real difference to their school and local community."
---
Click here to view the Tollgate Primary School Ofsted report.
Embracing partnerships and the opportunities offered by them has always been a key theme running through the heart of Unity Schools Partnership.
And I am delighted to see this ringing true in these first few months of the new school year.
County High School in Bury St Edmunds this week welcomed a cohort of students and staff from the Hyougo Kenritsu Kokusai Koutou Gakkou school community.
It was the first visit between the two partner schools since before the pandemic and it offered both sets of students a great first-hand chance to experience different cultures and education.
Then there are partnerships closer to home. And it was equally positive to see Thomas Gainsborough School team up with Addvantage 4U to support some of their sixth form students with valuable life skills which they can then use in the workplace.
And over the weekend, we all paused to remember and pay our respects to those who had lost their lives in conflict.
It was heartening to see so many schools discuss and display their gratitude, both in classroom and then joining their communities for services over the weekend.
*****
Just a few short weeks ago, we ran our pilot half term project which saw our schools close for two weeks rather than the traditional one.
First and foremost, we would like to thank every staff member and parent who contributed to our original consultation.
As mentioned, we felt this was worth considering and pursuing as part of a wider staff recruitment and retention strategy and as a way of seeing if it might combat staff and student illness – at a time where research shows there is a dip.
While it is too early to say whether the two-week half term was a success, we have begun collecting feedback from staff and parents.
Alongside this, we will be monitoring the data to see if there are any positive effects on attendance, something we will be continuing to assess until the Christmas school holidays.
We have received initial positive feedback about the two weeks, but I am also sure some parents will also have their own personal, and understandable, reasons as to why it doesn't work for them.
We will be launching a second consultation later this year, which will be publicised in the local media, our own communication channels and throughout each and every school.
As with any consultation we run, we truly value each and every opinion and we look forward to hearing your thoughts going forward.
---
By Tim Coulson, Chief Executive, Unity Schools Partnership
An initiative partnership aimed at bolstering employability skills of students has been launched at a Suffolk secondary school.
Thomas Gainsborough School has teamed up with local business, Addvantage 4U, to offer essential employability skills such as resilience, perseverance, motivation, ambition, teamwork, problem-solving, tolerance and respect.
The scheme, which is sponsored by Sudbury-based opticians Wardale Williams, will also play a pivotal role in academic achievements and overall life success.
Kenny Alexander, head of Thomas Gainsborough School's sixth form said: "We are really excited about this opportunity to further strengthen our fantastic careers offer and links with local employers, and to enable our students to be as prepared as possible for their next steps."
The pilot programme will run until April 2024 with 19 lower sixth students taking part. They will all receive individual reports and a tailored personal skills development programme.
The partnership is aimed to further strengthen the bond between the school and local businesses with many TGS students already working in part-time jobs or having secured permanent positions upon graduation.
Jonathan Foreman, owner and managing director of Wardale Williams, said: "As a former pupil of Thomas Gainsborough, I experienced first-hand the challenges young people face when navigating the complex path to success.
"In the 1970s, we did not have the privilege of mentorship and guidance to develop crucial decision-making skills. Today, as a 60-year-old business owner, I am delighted to give back and make a difference in the lives of the next generation of our local community by sponsoring this programme.
"The impact of this initiative goes beyond the classroom. It has the potential to shape a generation of future leaders, innovators and professionals who are effective and happy."
Mark van der Lande CBE, co-founder and director of Addvantage 4U added: "We are delighted to be working with TGS on this pilot.
"By developing the human skills which employers consistently say effective employees need, this programme will help TGS pupils succeed at school, employment and life as well as support local employers and promote TGS by further improving its careers offer to students.
"It will also help to make Sudbury an even more attractive place in which to run a business."
What did you want to be when you were young?
A footballer, a stage star, an astronaut! The opportunities were endless, the aspirations boundless – as they should be.
When Luke Howden was in Year 4, he knew exactly what he wanted to be.
Around 15 years later, his dream of becoming a teacher came true and it was with great delight that, going into this new year, he was appointed into his first leadership role as Head of School.
But Luke's fantastic story doesn't stop there. Those early dreams of wanting to teach were fostered in the classrooms of Steeple Bumpstead Primary School, near Haverhill, where he was a pupil.
Fast forward to present day and he has now embarked on a leadership role at the very same village school.
Of the importance of teaching, Luke said: "I like the impact that people working in schools can have on children. We can be a really positive change."
But Luke's story is about more than that. It is about having a dream and going after your dream. There is a lesson for us all there, but especially for the young pupils at Steeple Bumpstead and beyond.
It has been a whistle-stop start to the new school year which started with us welcoming new schools to the trust at the same time we celebrated our 10th anniversary.
It was a landmark milestone and one we couldn't have achieved without the hard work and commitment of so many.
But it also allowed us to look ahead and plan what the next 10 years – and beyond – might look like.
Like Luke, we welcomed new leaders and on a number of occasions at the start of the year, we welcomed teams from Ofsted into our family of schools.
These inspections have given our leaders, all staff and students a chance to show what makes their own school the very best it can be – a key theme from the last 10 years and for the years ahead.
We have also seen schools celebrate their commitment to the environment, with the Green Flag award, and their continued commitment to inclusivity with the IQM Award recognising the ongoing commitment by schools to provide the very best education for all children irrespective of differences.
With open evenings, school tours, Year 7 starters and so much more, it has been a busy start to the new school year.
A village primary school is celebrating after earning a top award recognising their inclusive approach.
Kedington Primary Academy has been awarded the IQM Inclusive School Award after inspectors found it was a "lively, happy school".
Areas for praise included a calm and purposeful environment where children "enjoy their experiences and show great respect for each other".
New head of school Hayley Ahlquist said: "We are delighted that everything we recognise and love about Kedington Primary Academy was backed up in this report.
"We are proud to be an inclusive school and everyone plays a part in this – from pupils to staff, families to governors and our wider school community.
"We thank them all for their hard work and commitment and for helping make Kedington Primary Academy such a special school."
Following a inspection, which included interviews with staff, pupils and parents, the school was highly praised in the subsequent report and IQM award, which also suggested Kedington could work towards Centre of Excellence status.
The strong leadership and a commitment to inclusion and improving the opportunities for all children were singled out alongside the curriculum and spiritual, moral, social and cultural education.
The report said: "All staff have high expectations of children and offer a caring, supportive and encouraging environment where positive relationships are crucial to the progress of all the children.
"There is a strong emphasis on kindness and good manners and this was evident whenever the children were asked a question or when they moved around the school.
"Excellent work is carried out with families, pupils and the community generally to ensure that children are cared for and valued."
A secondary school is on the road to an 'Outstanding' Ofsted rating after it came in for huge praise following an ungraded inspection.
Thomas Gainsborough School was inspected last month with Ofsted concluding that it remained a Good school, but could reach the top-level Outstanding status following evidence gathered during the two-day inspection.
With a full graded inspection now due in the next two years, headteacher Helen Yapp said she was delighted with the latest report.
She said: "We thought it was a fair summary of where the school is now and the journey we have been on for a number of years.
"It recognises our whole school approach, both what goes on in the classroom and the additional things we offered students and families.
"It is a testament to everyone connected to the school – all our staff, our governors who work tirelessly to both support and challenge, our students and our families. We thank them all for their continued support.
"Of course, we are delighted that Ofsted found many examples of an 'Outstanding' school and we will continue to work hard to achieve this and provide the best possible education for our students."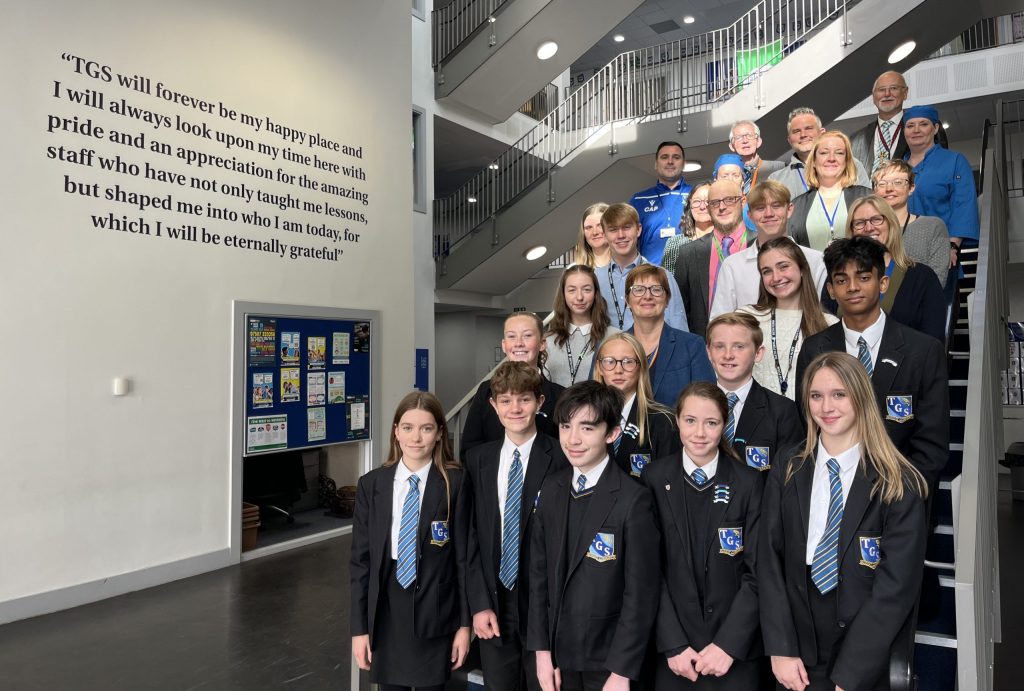 Highlights of the report included a flexible and well-thought-out curriculum, tailored towards pupils' needs and interests, and subject teams working together on a journey of continuous improvement – meaning pupils were well prepared to take their next steps in education, employment or training.
Mrs Yapp said she was also pleased to see inspectors highlight the progress of SEND students at the school who "make similar progress to their peers".
There was also high praise for sixth form provision at the school in Wells Hall Road with the report noting: "Pupils and students in the sixth form are proud of their school. They understand the values that are at the heart of the 'Thomas Gainsborough Way'.
"This is reflected in their positive approach to learning and in the typically high standards of behaviour."
The community spirit of inter-house competitions were said to be popular, as was the 'Ribbons' reward scheme, which highlights achievements in academic studies.
Inspectors said: "Pupils wear their ribbon badges with pride. They explain enthusiastically about how they achieved them.
"The chance to be a pupil leader, such as becoming a subject ambassador, reading mentor, house captain, or to get involved in charity fundraising are valued."
---
Click here to view the Thomas Gainsborough School Ofsted report.