Unity Professional Development Events
** Covid-19 **
With the present situation regarding Coronavirus, we are not currently offering face-to-face CPD. We are working on ways of delivering high-quality CPD to you.
---
June 2020
---
The Forgotten Third: Do a third of pupils have to fail for two thirds to pass?
Edited by Roy Blatchford
ONLINE BOOK LAUNCH

Webinar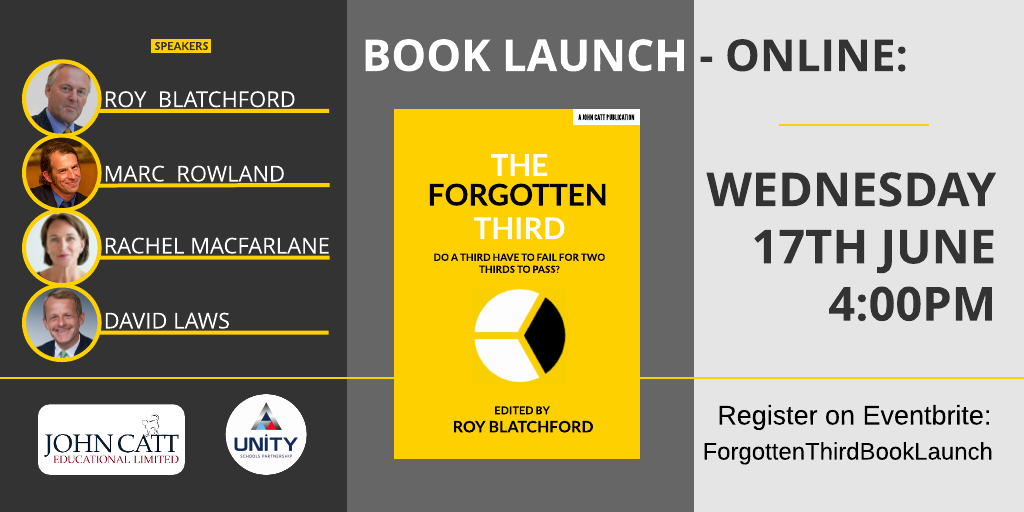 This free webinar marks the launch of a book that brings together essays from leading thinkers and influencers in UK education to consider the 'forgotten third' of pupils, and pose solutions to shape a 'levelled up' education system.
Four of the book's authors, Marc Rowland, Rachel MacFarlane, David Laws and Roy Blatchford, will discuss their contributions to the book and 'Tackling Disadvantage' from their viewpoint of experience and expertise.
There will be a short series of follow-up videos from other contributors to the book, available to ticket holders after the event.
Recommended Pre reading:
Canaries Down the Coalmine: What Next for Pupil Premium Strategy?

Blog – Marc Rowland, Pupil Premium Adviser, Unity Research School
researchED Norwich: Promoting Independence Through Least Help First: Using the TA Scaffolding Framework
ONLINE CPD

Webinar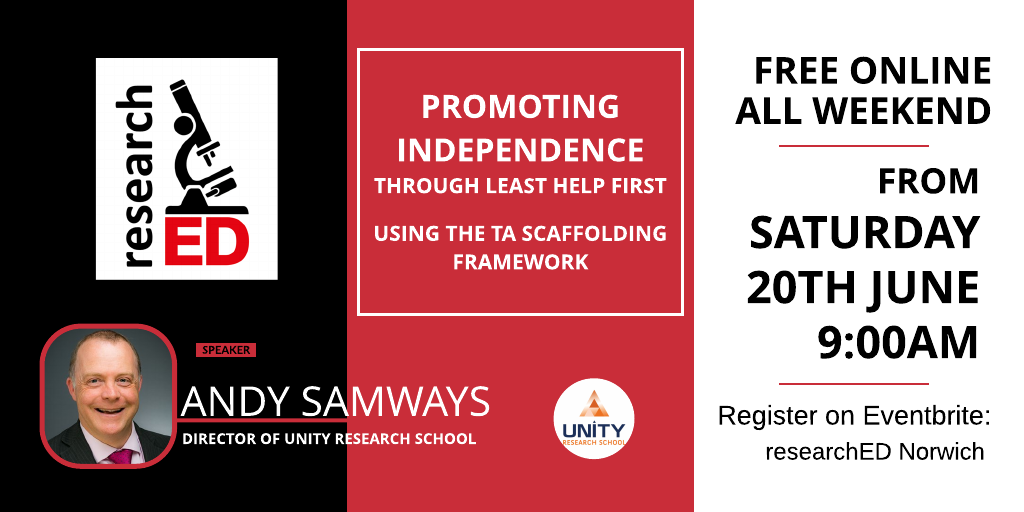 Part of a larger online researchED Norwich conference, Andy Samways, Director of Unity Research School and Unity Professional Development presents presents the evidence around Making The Best Use of Teaching Assistants and highlights strategies and a useful planning tool, particularly useful when planning for the return of children to schools after this extended period of uncertainty, during COVID-19.
researchED Norwich information:
Norwich Research School is excited to be leading this collaboration. With key themes including cognitive science there will be something for everyone. An impressive line-up of speakers will share their knowledge and expertise around how research evidence can support our work in schools and in our classrooms.
From Mitigation to Success:
Maximising the achievement of disadvantaged learners
ONLINE CPD

Webinar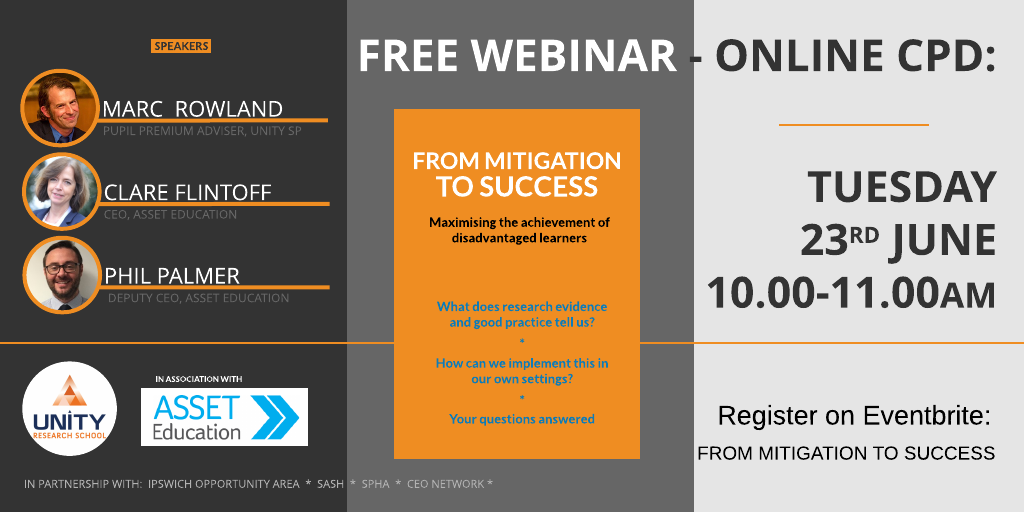 A free seminar for primary, secondary and special school teachers, leaders and those working in advisory roles with Suffolk schools.
Marc Rowland (Pupil Premium Adviser, Unity Research School), Clare Flintoff (CEO, Asset Education) and Phil Palmer (Deputy CEO, Asset Education) will present evidence alongside experience. They will discuss 'Tackling Disadvantage' – a subject particularly pertinent during the current pandemic – and will answer two main questions:
What does research evidence and good practice tell us?
How can we implement this in our own settings?
There will be opportunities to ask questions to the panel.
---